CREB: High Performance Engines and Parts
Regular price
Sale price
$7,061.87
Unit price
per
Sale
Sold out
  On the GT-40 heads they are  direct swap out for a non GT-40 head, they come with  factory plug angle so there's all the benefits of bigger ports and valves but no hassle with headers.
This auction is for a completely redone and HO  prepped 351w  ford hydraulic roller cam long block. This mildly hopped up stock replacement engine is for the person that wants a engine built for reliable everyday use at a fair price. Our new line of these engines shares all our normal machine work below that we do on all our full performance line of crate engines. The heads are a Ford high performance casting GT 40 Ford casting only with our personal touch of a 3 angle valve job, and semi short side port work for improved bottom end torque and increased performance. The valves and springs are brand new and for this hydraulic roller cam. We also install machined keepers and chrome moly retainers as well. The camshaft unlike other builders is a .499/510 lift Hyd. Roller camshaft which we can setup for FI or carb. For your needs. Made by Trickflow.  It has a set of Hyd. Roller lifters as well as a double roller timing set which has been degree in with the camshaft. It has an Aluminum timing cover and is a Stock style 28oz harmonic balancer. We use ARP a set of head bolts and this comes with all the left over gaskets from a complete Fel-Pro set to aid in installation. We also prime all our long blocks so they are ready to go when you get them and the valves are adjusted as well. We install a new front or rear sump oil pan depending on your needs. The machine work on the lower end of the block includes; a complete cleaning and surface inspection of our blocks which starts by: being burnt and blasted in our cleaning system, then they all  get squared up by our BHJ fixtures which gives you a truly squared up deck surface after we mill them (a plus for holding a head gasket tight under high stress applications) and then they move on down the line to having their  lifter bores gauged and honed with our Sunnen lifter bore honing tools (so that you won't have to worry about lifters galling or a tight lifter that doesn't fit right during your build and cause you great frustration) Then off to being line honed in our Sunnen line hone machine. From there they go into our CV-616 hone machine where of course all of them get a set of honing plates put on them. (We have also seen a gain on the engine Dyno of at least 30-40hp, just from being honed with the honing plates vs. a 351w ford block .030 over with just a plain Jane hone job.)  This short block comes assembled with a set of coated seal power .030 or .040 over Hypereutectic Pistons which with stock heads will get you 9:5 to 1 compression. (which is what we reccomend with cast iron heads) We also have included a set of ARP main bolts installed at no extra charge. The piston rings are moly and the rod and main bearings are all brand name along with brass freeze plugs and a set of Dura bond cam bearings which are installed in the block. The crank is a like new std. Shaft or a .010/.010 fresh ground and magnafluxed stock 351w 28oz shaft and we do offer a new  28oz crank for $300 more if needed in a 5140 steel version. The rods are a factory 5.8 style rod which has gone thru magnafluxing as well as being checked out for proper size and fit. Now we offer this long block in your choice of colors which are wide ranging (just let us know when you buy it) and we also offer a photo album build up of digital pictures of your engine, so you can feel like you're in the room as we machine it and build it to fit your needs. (It's also nice for the guy's or girls like us who have pictures of our rides which started as a pile of nuts and bolts and ended up finished and at the local cruise night or out on the race tracks.)  
Share
View full details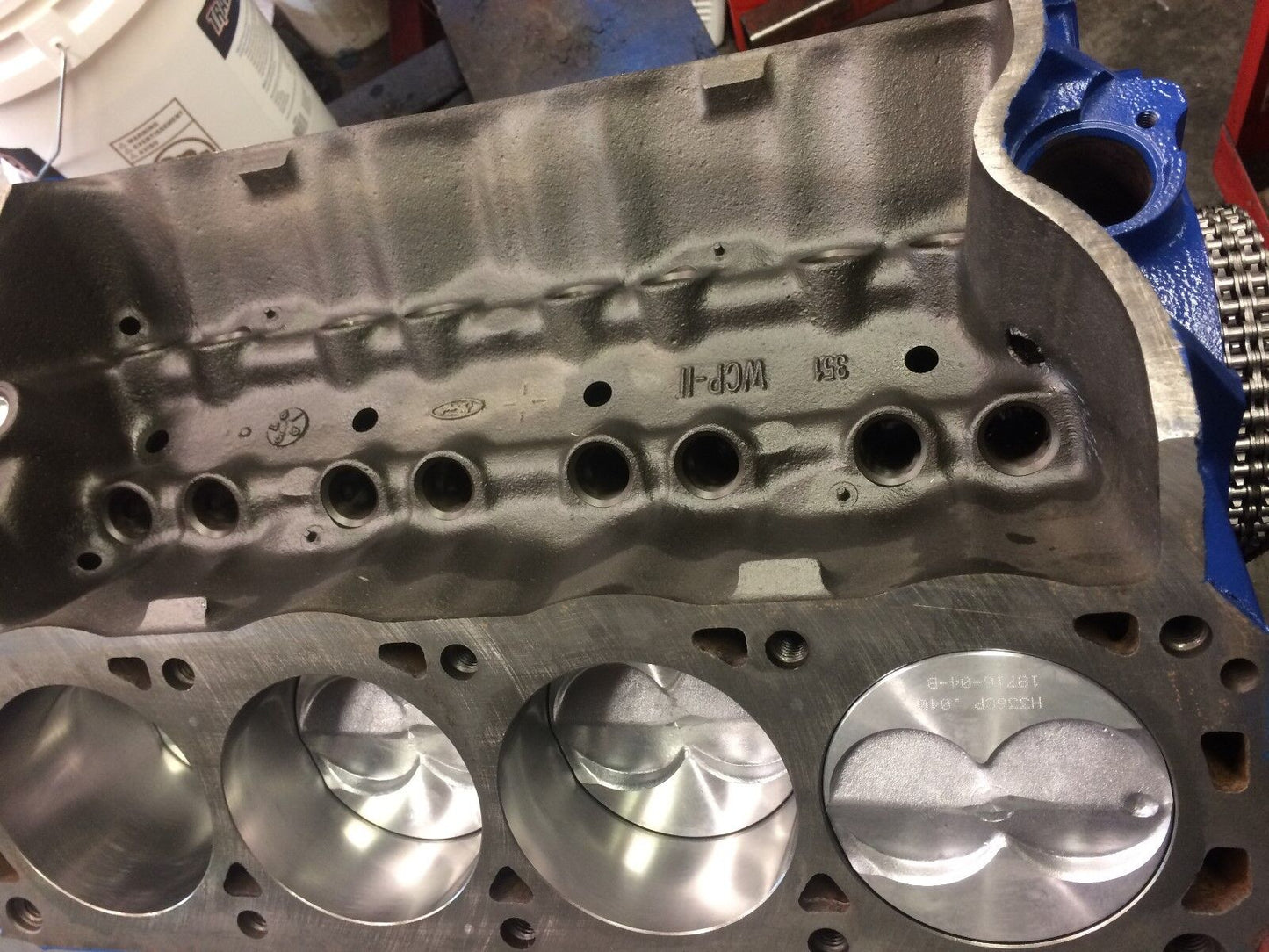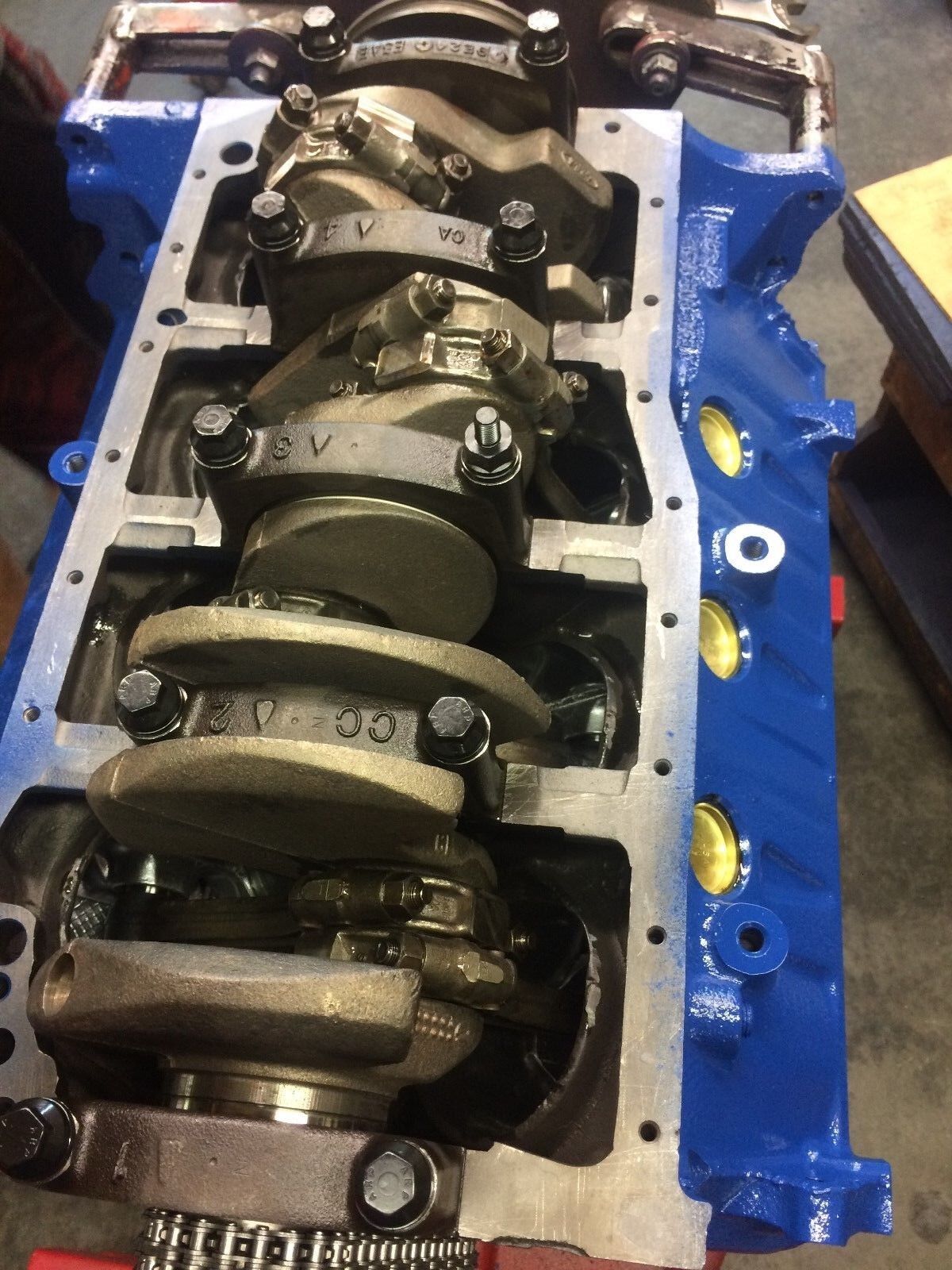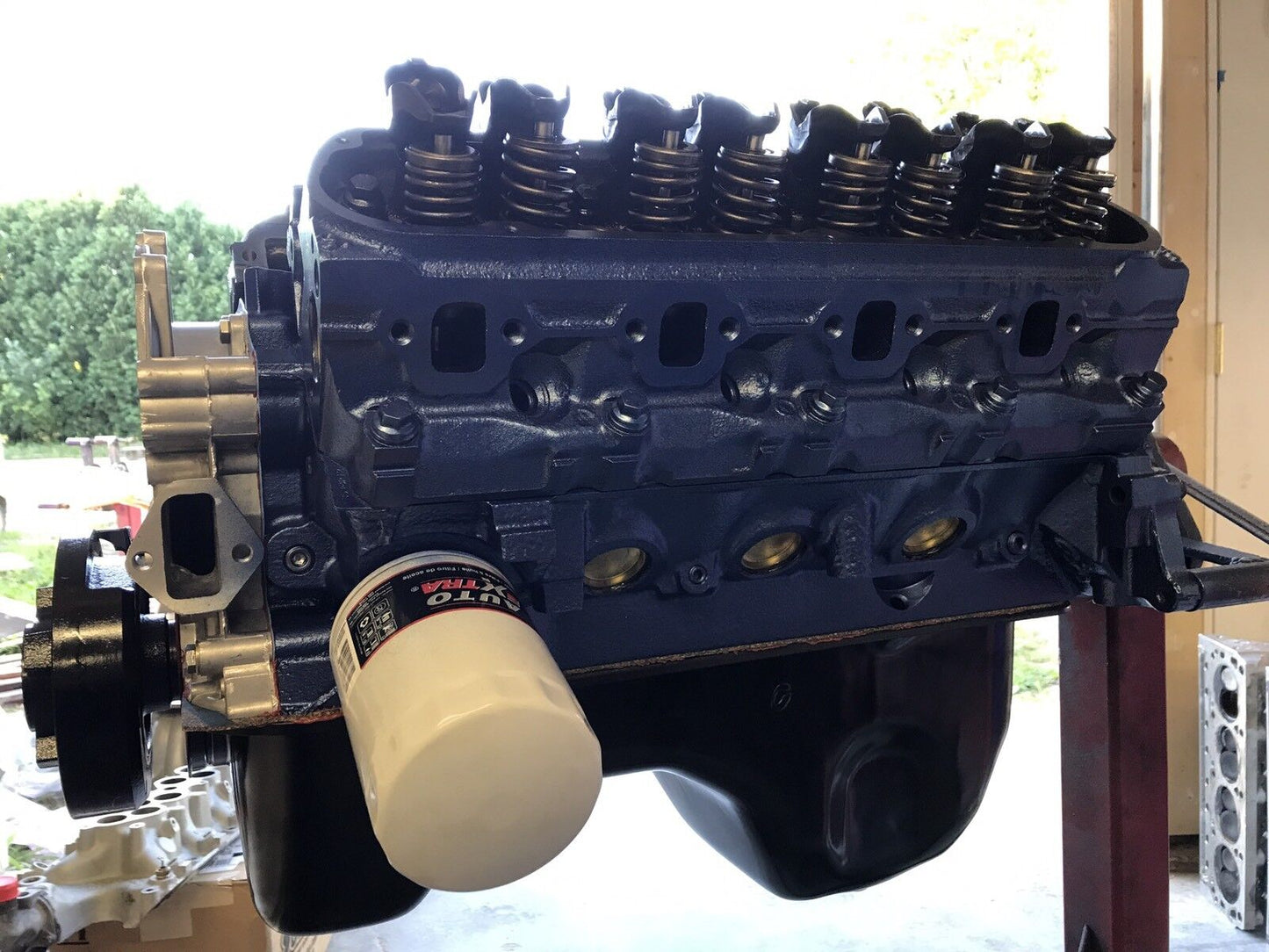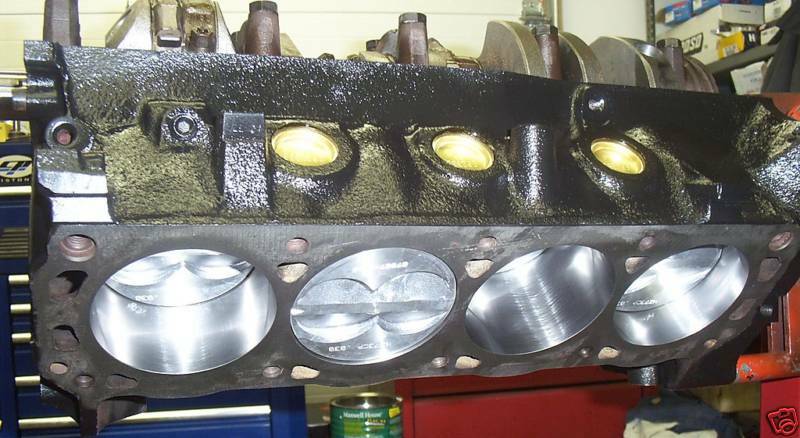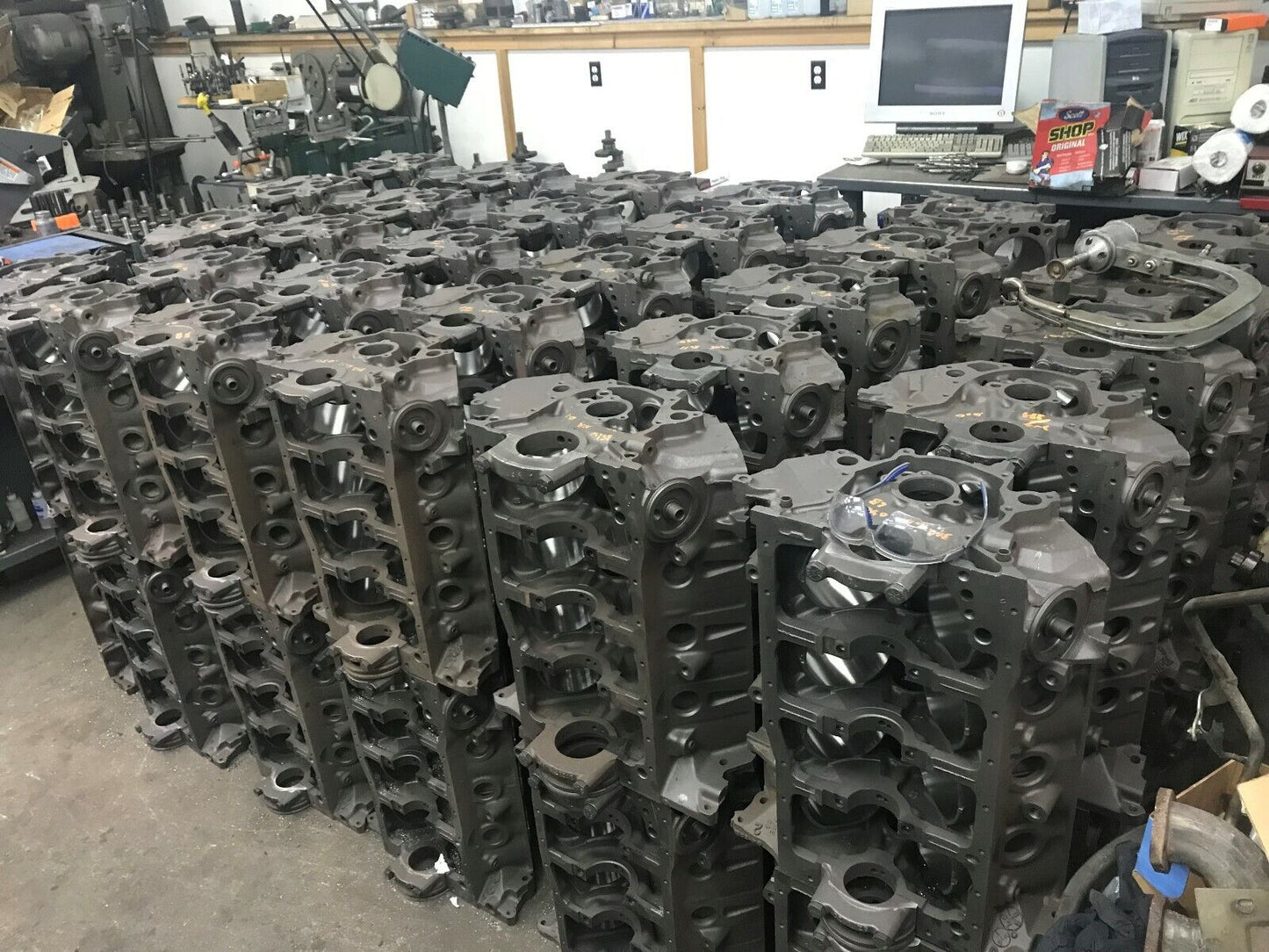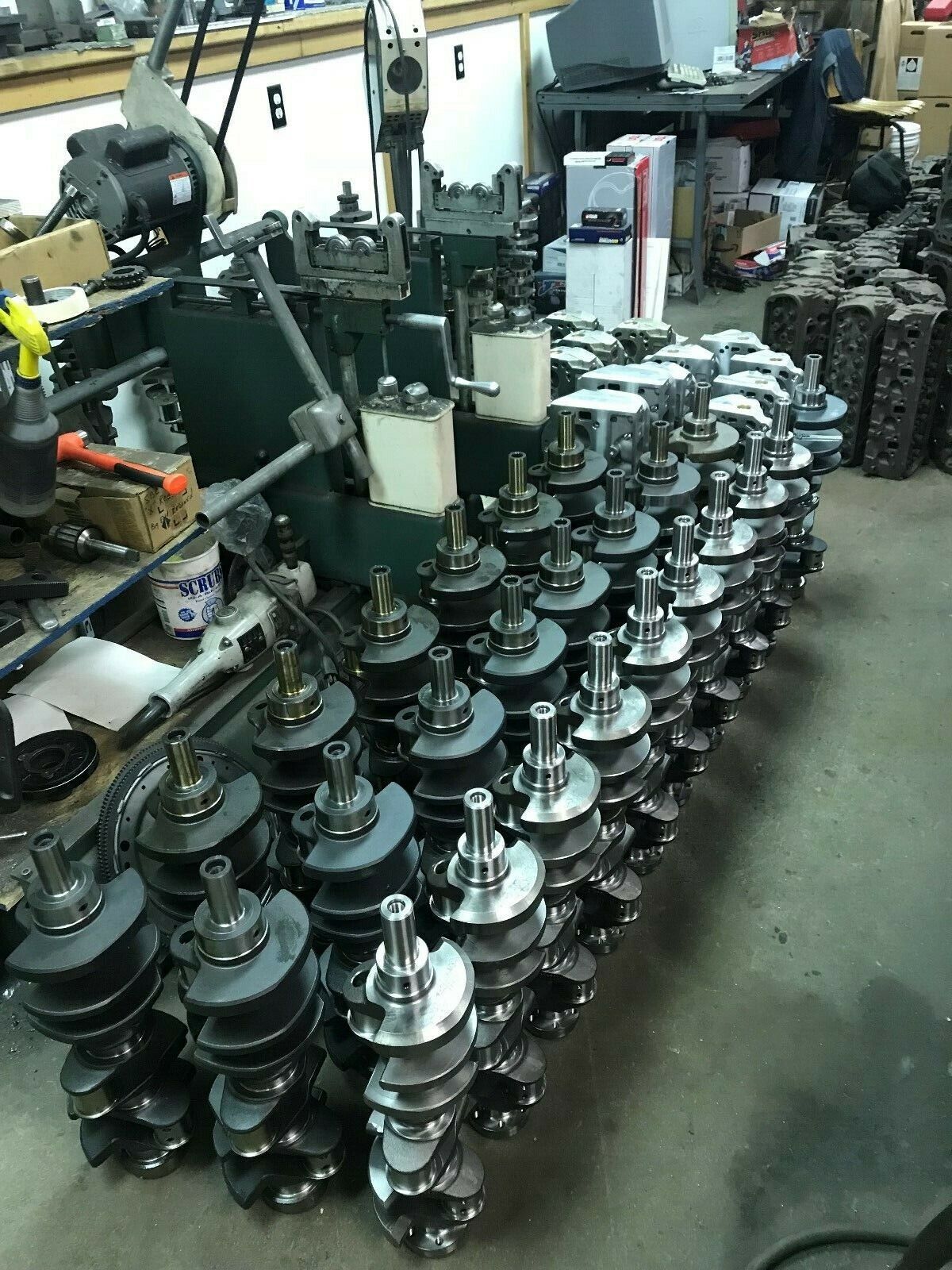 Add a title to introduce your product's features
Highlights

Provide details in each of the collapsible rows to give your customers the information they need to pick the best product.

Change the title and icon of each row to suit your brand.
Feature a compelling customer review about your product or brand.
Multicolumn

Use a combination of images and text to share information about this product, and your brand.

Multicolumn

Consider adding information about your shipping and return policies.

Multicolumn

Consider highlighting your environmental commitments.

Multicolumn

Consider describing a money-back guarantee or highlighting your customer service.
Introduce other complementary products.
DESCRIBE HOW TO PAIR PRODUCTS TOGETHER
Image with text
Pair text with an image to focus on your chosen product. Add details on availability, style, or even provide a review.
Shop now
Image with text
Pair text with an image to focus on your chosen product. Add details on availability, style, or even provide a review.
Shop now
Image with text
Pair text with an image to focus on your chosen product. Add details on availability, style, or even provide a review.
Shop now